Steve Geer

|

Verna Todd


May 30 - June 30, 2019
Opening Reception: Saturday, June 1, 5-7 pm
Conversation with the Artists: Thursday, June 20, 7 pm

All events take place at the gallery and are free and open to the public.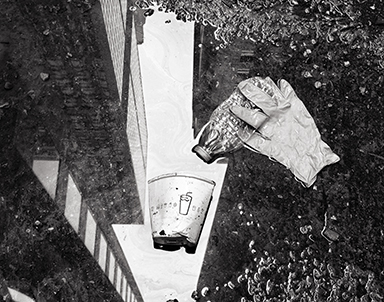 Discarded
| Steve Geer
In Chicago, behind the shops and restaurants, there are service alleys. These narrow back-streets are lined with dumpsters which are filled each day and emptied each night. Sometimes discarded things spill out of the dumpsters and into the alley. There are plastic knives and forks and cups and cigarette lighters. There are disposable gloves in vast quantities, and packaging of all types. There are flowers and vegetables that are past their best, and crumpled newspapers and fliers. These are the things that we use once and then throw away.
In 2017 I began to photograph this spillage, placing the discarded items in reflecting puddles to provide an informative backdrop, and sometimes arranging these once-used things into still-life groupings inspired by their usage.
I live in the city. I buy things in the shops and eat in the restaurants. I see my own day-to-day activities in many of these still-life vignettes. They are self-portraits in which I am absent. Many of the discarded things will still be around, in landfills or elsewhere, long after I've gone and perhaps long after the city has gone.
To see more of Steve Geer's photo-based art, go to
www.stevegeer.com
.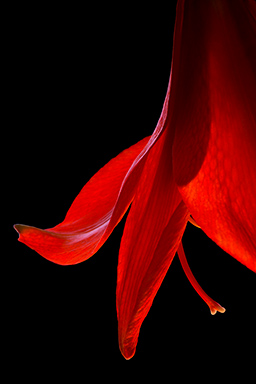 Consider the Lilies
| Verna Todd
Choosing a lily as the subject for this exhibit was tough. I am forever on the artist's quest to show people something they have never seen. Something new. And an amaryllis is just too common. Everyone has grown one, or at least seen boxes of them stacked in stores.
Yet there it was, morning, noon, and night, this lily with its immense crimson blooms, virtually screaming, "Look at me!" At breakfast, "Come see what I'm doing now," and at dinner, "Why are you not photographing me?"
Resentfully, I gave in.
That's when the lily took me to another place, a quiet place where I could experience its presence.
My battle with the amaryllis is one I fight often: doing versus being. I'm a doer, and it bugs me when I arrive at the end of a day with nothing to show for myself.
Photography helps nature call me (or scream at me) to be. To look carefully and steadily at something – and discover that thing looking back at me. To have the barrier between us dissolve and to become part of the whole magnificent moment.
In our information-heavy society, we can become disconnected from nature, and even perhaps from ourselves. My hope is that in this exhibit I can share with you the respite of a moment simply to be, quiet.
Verna Todd's photo-based art can be viewed at
www.vernatodd.com
.