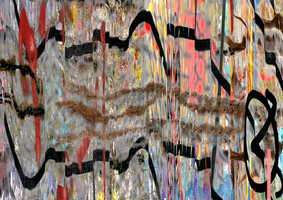 Jay Wolke | Changing the Index: Recent Works
Sunday, December 1 at 4:30 pm
Most viewers expect photographs to reveal a lens based, visually "accurate"
representation, one that reconciles perception with memory. However, the
characteristics that distinguish acts of documentation, abstraction, appropriation
and materiality are complicated and as an artist, Jay Wolke scrutinizes the potential intersections that connect them.

By experimenting with strategies that alter the cognitive cues of photographic representation, Jay has generated images that hover between multiple readings and contexts. In this presentation, Wolke will present examples of his current projects and discuss their intent and production.

Jay Wolke is an artist and educator living in Chicago. His photographic
monographs include All Around the House: Photographs of American-Jewish
Communal Life, 1998; Along the Divide: Photographs of the Dan Ryan Expressway, 2004; Architecture of Resignation: Photographs from the Mezzogiorno, 2011 and Same Dream Another Time, 2017. His works have
been exhibited internationally and are in the permanent print collections of the
Whitney Museum of American Art, New York MOMA, the Art Institute of Chicago
and San Francisco MOMA, among others. His photographs have appeared in
numerous publications including The New York Times Magazine, Guardian Magazine, Financial Times Magazine, Geo France, Exposure, Newsweek,
Fortune, and the Village Voice.

He is currently a Professor of Photography at Columbia College Chicago, where he was Chair of the Art and Design Department from 2000-2005 and again from 2008-2013.